---
Thoughts on Becoming a Tour Guide (And Highlights From Europe)
Posted: 17 Oct 2013 11:02 AM PDT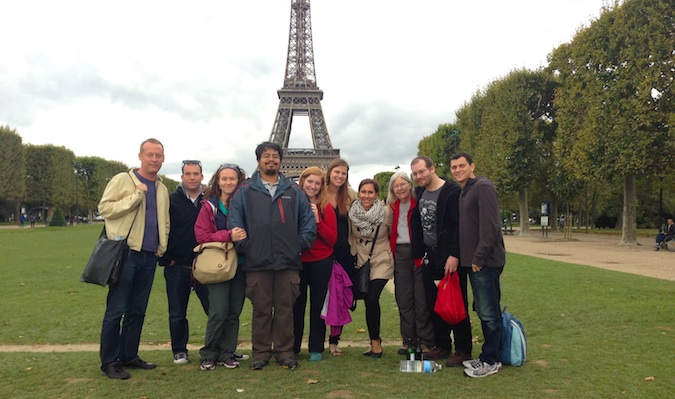 I knew it was going to be hard. I knew it was going to be a lot of work. I just didn't realize how much work or how stressful it would turn out to be. Earlier this year, I decided to start organizing tours. In May I put together a tour through Europe and planned to take ten readers on an epic two week journey through Paris, Amsterdam, Copenhagen, and Stockholm.
I organized day tours, meals, hostel accommodations, train tickets, walking tours, and nights out on the town.
And when the tour began in Paris last month, all my assumptions about being a tour guide were thrown out the window.
I now have a new appreciation for every tour guide I've ever met in the world. You don't realize it when you're part of a group, but, after being on the other side, I see just how much work goes into being a guide.
You're constantly checking on everyone, keeping an eye out so no one gets lost, and having to keep everyone together and on task. It's not easy.
Throw in having to deal with messed up reservations, closed attractions, and lost phones, and you end up dealing with endless stress and fatigue. You are "on" from morning to night and it's incredibly draining. I never imagined I'd be so ready for bed by 9 at night. (To every tour guide who runs trips for months on end, I salute you!)
And it was because of all of that stuff that I loved leading the tour.
I loved every minute of it.
Planning a tour for ten strangers is a lot different than planning a trip with your friends, but in both situations I'm getting people excited about travel and sharing something I'm passionate about with others.
And I couldn't have asked for a better group of people.
We had a great group of diverse ages (from 19 to 69) that got along fabulously. I suppose we had an advantage – everyone reads this blog so we all had the same views on traveling.
We hit it off right away and I believe that everyone on my tour will stay in touch with each other for a long time to come. Some highlights from our trip include:
Karaoke in Denmark! (We rocked out hard that night!)
Our boat cruise in Amsterdam:

Cooking dinner in our hostel in Stockholm:

Our crazy night out in Amsterdam (Too hot to write about online!)
Our Stockholm Archipelago tour (even if it was freezing cold!):

Our food tour in Paris.
All our group dinners (especially the never-ending cheese plate in Paris!).
And, of course, getting to know all these amazing and beautiful people:


(I've already met up with one of the tour participants in Chicago. He took me to a great Japanese market (Tensuke) for sushi.)
But this was my first tour, and like anything done the first time, you learn how to make things better. Mistakes were made and notes were taken. At the end of the tour I asked everyone to fill out a survey and their comments echoed my thoughts. I'll be making many changes to my future tours including:
Creating print-outs of local attractions each day along with their cost.
Streamline ticket buying (there's only so much you can get in advance, though).
Printing  maps with highlighted attractions ahead of time for each destination.
Even though this was my first time leading a tour, my group and I were both very happy about how the tour ended. It wasn't perfect, but I learned how to improve it and make operations smoother in the future.
That's probably to be expected, and maybe I'm being overly harsh on myself (many people on my tour told me to relax and that things were fine), but I'm a perfectionist and it's important that your holiday with me is flawless.
Guiding a tour group is exhausting — but fun – work. There's a lot of pressure – you're in charge of these people and their holiday; if you mess up, you mess up their holiday. They put their faith into your hands and while you can only do your best with some things being out of your control, it's still stressful.
I had imagined a lot more down time. But that never happened (you might have noticed the blog and newsletter were non-existent for a while). The time I'd planned for writing on trains? Nope. Working after everyone went to bed? Way too tired. Being a tour guide is a 24/7 job.
But I enjoyed sharing my love of travel with others (one person on the tour had never traveled as an adult and is now planning adventures all over the world!). It's challenging but fulfilling work.
My tour guiding days are only just beginning and I look forward to leading more trips in the future.
****************
Want to come on tour with me? In February, I'm taking twelve people around Thailand for 18 days of amazing fun through my favorite places in the country (I've been visiting Thailand since 2004 and lived there for over a year). There are five spots left!
The post Thoughts on Becoming a Tour Guide (And Highlights From Europe) appeared first on Nomadic Matt's Travel Site.
You are subscribed to email updates from Nomadic Matt's Travel Site
To stop receiving these emails, you may unsubscribe now.
Email delivery powered by Google
Google Inc., 20 West Kinzie, Chicago IL USA 60610