| | |
| --- | --- |
| | |
---
Posted: 11 Mar 2013 05:35 PM PDT
Africa is a huge continent where independent travellers can enjoy some unique experiences and see some unforgettable sights. 
In the north of Africa, Egypt is easy to fly to from most UK airports for fairly cheap prices. There are different parts to this country, the Nile winds its way directly south from the Mediterranean Sea, through Cairo, Luxor and Aswan. Cairo is a crowded city with horns blaring at all hours of the day and night, but it is exciting and very much alive. The pyramids are so iconic they are on most people's must-see list, and the museum here is full of fascinating exhibits. In Cairo it is possible to stay in 5 star hotels from international chains, like the Intercontinental City Stars with 11 restaurants and a spa, to a hostel with just a clean bed and a tap. 
Dahab, in the South Sinai, is a complete contrast to Cairo. Situated on the Red Sea, the scenery is jaw-dropping with golden beaches one way, and picturesque mountains the other. This place has been very popular with backpackers for years, many of whom don't leave for months at a time once they've discovered it. There is plenty of cheap accommodation here in the form of camping, but there is also a Hilton on the beachfront if the budget allows. The diving is some of the best in the world off the shores of Dahab, and this is one of the main draws of the area. 
Moving on to the east coast, Tanzania is home to the Serengeti, one of the world's most spectacular national parks which is chock-a-block with wildlife. Considered one of the best places to see the "big five" animals, which are rhino, elephant, lion, buffalo and leopard, the Serengeti is popular with those wanting a safari experience. There are lots of different safaris to choose from, many of them have accommodation in luxury tents or lodges with pools. A different way to see the area is to do a self-drive safari, where you rent a jeep fully packed with roof tents, bedding and cooking equipment. (www.imagineafrica.co.uk) This kind of trip offers the traveller the freedom to experience the wild side of the savannahs.
Right at the bottom of the continent, South Africa offers a climate that is good for holidays year round; the hottest months are during the British winter. There are beautiful beaches, hundreds of game reserves, wine tasting regions, and bustling cities. Cape Town is a stunning city and the second largest in South Africa. There are some of Africa's best restaurants in this city and the shopping is second to none. Table Top Mountain is a popular site to visit. It is possible to find some good 1 star hotels, and there is the option to rent an apartment. For longer visits, this is a cheaper alternative. Cape Town also has high end hotels down by the waterfront for those with the biggest wallets.
Whether travelling in luxury or backpacking on local transport care must be taken. Africa is generally safe in the tourist areas but there is more crime away from these parts. Good quality travel insurance is a must, it is possible to get backpacking travel insurance for great rates so even if the budget is tight, it is possible to get cover. 
Travelling through Africa is a post from: itravelnet.com - Travel Directory
3 Tips for Holidaying with Dogs in the UK
Posted: 11 Mar 2013 09:05 AM PDT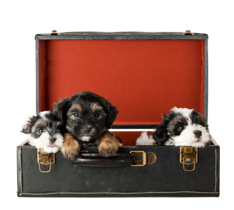 If you are considering taking the family pet away with you on your next holiday, then renting self-catering accommodation is by far the best option.
However, a little research and upfront planning can make a big difference and allow you to get the most from your holiday.
Here are 3 tips to help you have a stress-free break, that doesn't make you barking mad!
Check beforehand
For the most relaxed break, check with the cottage owner beforehand exactly what to expect. Find out where the dog is allowed (and not allowed!) to venture. Most cottage owners don't allow dogs in the bedrooms, for example, and nearly all owners will be very unhappy if your dog is left unattended in the property.
Are dogs welcome in local attractions?
Check out the local pubs and restaurants to see where dogs are accepted and make arrangements, in advance, for those times where the dog may not be welcome.
Is your pet OK with staying in a crate/cage?
If handled correctly, many dogs are perfectly happy spending short periods of time in a purpose-made cage or crate.
For us humans, the thought of spending time in a cage can seem a bit cruel. However, the benefits of spending days chasing along a beach, long walks in the countryside or evenings with a bone in front of a log fire, will far outweigh short periods of time left in a cage.
For your dog to feel truly happy in his cage, spend time well ahead of the holiday getting your dog accustomed. Firstly, make sure that the cage is large enough. There should always be a soft bed, water bowl and something to occupy them such as a toy or large chew (but be mindful of choking hazards).
Try to get your dog used to the cage as far in advance of the holiday as possible. To do this, start off by feeding meals in the cage and giving praise and treats when he goes and lies down in the cage of his own accord. Never be tempted to use the cage as a punishment! You do not want your dog to form negative associations with its cage.
However, cages are not suited to all dogs, and knowing this can allow for alternative arrangements to be made; such as local day kennels or perhaps the cottage owner themselves!
Bio
This article was provided by Sarah Jarvis, owner of Independent Cottages, where you will find a great selection of independently owned dog friendly, self catering accommodation in the UK.
3 Tips for Holidaying with Dogs in the UK is a post from: itravelnet.com - Travel Directory
You are subscribed to email updates from itravelnet.com Travel Blog
To stop receiving these emails, you may unsubscribe now.
Email delivery powered by Google
Google Inc., 20 West Kinzie, Chicago IL USA 60610