| | |
| --- | --- |
| | |
---
Posted: 26 Feb 2013 11:20 PM PST
London is one of the most popular tourist destinations in the world so you can be sure that there is always big events going on, especially during summer time. In this article, there are some events that you should enjoy with your family this summer.
Coronation Festival at Buckingham Palace
This event will be held from July 11th to July 14th, 2013. During this time, all gardens in the Buckingham Palace will be opened to public. This is going the be a unique festival for celebrating the 60th anniversary for the Queen's coronation celebration. There are more than two hundred companies that will join this Royal Family's Festival. You are able to see many different foods, drinks, technologies, home accessories, gardens, and many more. The palace garden is going to host the Coronation Gala night starring some UK dance and music talents.
Hampton Court Palace Flower Show
This is another great event that you should visit this summer. This event is going to be held from July 9th to July 14th, 2013. This show is the world's biggest annual flower show. There are a lot of amazing floral displays that will be displayed during this show. You are able to learn some tips on growing your fruits and vegetables. There are a lot of stores selling gardening products during this show. You will enjoy more than fifty amazing display gardens that include the rose marquee, tranquil water garden, and many other conceptual gardens. This event is perfect for everyone who loves flowers.
Notting Hill Carnival
This is the biggest street festival in Europe. This event will be held from August 25th to August 26th, 2013. There will be many people who are willing to join this festival. This event is considered as the best annual event in London. This year, the Carnival will have Caribbean theme. There are many exciting activities in this event. You can see many tempting food stalls. Your kids will enjoy the beautiful Calypso music in this wonderful event. The main event in this festival is the parade. There are a lot of communities that will join this big event.
Horse Racing, The Royal Ascot
This horse racing is going to be held from June 18th to June 22nd, 2013. You should visit this Ascot Racecourse in order to see this beautiful horse racing show. This is the best and most famous horse racing in the world. If you love sports, you will love this attractive sport. The highlights of this Royal Ascot horse racing include the Gold Cup and the Golden Jubilee Stakes. The total price for this show is going to be millions of pounds. Many people are going to visit and watch this show. You should bring your family along while watching this thrilling show.
Those are the best summer events in London. If you are planning to visit London this summer, you should book your accommodation in advance. There are many hotels in London that offer great deals for people who book in advance. You should reserve your room in your favorite hotel in this city as soon as possible in order to get low price available.
Summer Events in London is a post from: itravelnet.com - Travel Directory
Cruiseline Style and Elegance – What To Pack For Your Voyage!
Posted: 26 Feb 2013 04:15 AM PST

A cruise is a unique kind of holiday as it can incorporate a whole range of experiences, from sophisticated dinners to hot and dusty on shore sightseeing trips. If you want to make sure that you're ready for every occasion then you need to give some thought to your cruise wardrobe before you go. Here are a few tips on how to pack for a stylish and elegant cruise ship trip.
Don't neglect that basics. It's all very well packing lots of incredible accessories, over the top eveningwear and shoes to die for, but without the basics covered achieving any kind of stylish look can be a real challenge. Make sure you pack plenty of underwear – enough for the entire trip unless you want to be washing and rewashing – as well as socks, tights, a robe to wear in the cabin, nightshirt and special smalls for every occasion, from a backless evening dress to a bandeau sun dress. Remember also to take appropriate clothing for the activities you want to get involved in – trainers, a swimming costume and shorts and T-shirt will cover most bases.
Keep it simple. The key to achieving an elegant look on a cruise is to pack a suitcase where everything goes with everything else. Choose your staple colours – such as black, nude, white or navy blue – and then opt for two accents, such as yellow, orange or red and make sure that everything you pack stays within your colour scheme. That way you're unlikely to have an off day as virtually everything in your case will work together with everything else.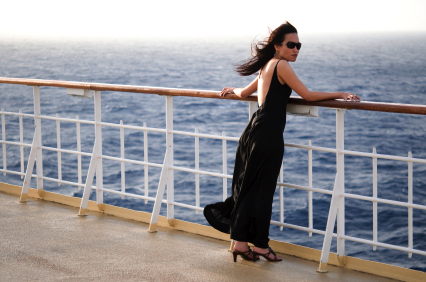 Make a statement. When you don't have a huge amount of room to take your entire wardrobe, the easiest way to make your outfits stand out is with accessories. Shoes and jewellery are by far the easiest to coordinate – take some statement gems for evening and something simple, such as strands of beads or a selection of cuffs or bangles, for daytime. Pack at least one pair of dressy shoes that you can use to take a plain outfit up a notch or finish off something more spectacular.
Be practical. There's probably nothing less elegant then trying to hobble around in six-inch heels and then falling flat on your face! Remember that you're going to be on a boat so make sure that most of your shoes have a small-mid heel or are flats (other than that statement pair) and take comfortable shoes for sightseeing. Include a hat in your packing so you don't end up with sunstroke (not particularly elegant either) and don't forget the sunglasses.
Get into the spirit. Think about where your cruise is taking you and try and take clothing selections that will work well for that destination. Bright tropical prints look great against a backdrop of the Caribbean and fur trimmed hoods and cosy parkas are ideal for the Arctic. You might even think about incorporating some nautical stripes into your outfits, given your method of travel…
Packing for a cruise is an exciting time and there can be a temptation to just throw everything into your case. However, with these tips you can make sure that you have the perfect capsule wardrobe ready to go, so you can sail into the sunset in style.
Post contributed by Amy a fashion writer from Style in View – a UK fashion search engine and blog.
Cruiseline Style and Elegance – What To Pack For Your Voyage! is a post from: itravelnet.com - Travel Directory
An Art Lover's Tour of Amsterdam
Posted: 25 Feb 2013 03:24 PM PST
Rijksmuseum
The Netherlands has always been a pioneer of fine arts and with the likes of Rembrandt and Van Gogh hailing from this part of the world it's no surprise that art is well represented here. In addition, thanks to the reopening of the Stedelijk Museum and numerous fairs and exhibitions around the city, modern art is now very much on the agenda too. Those who are visiting Amsterdam for its art will be well rewarded with numerous art galleries and museums, as well as some very modern visual experiences – here are some of the highlights:
Amsterdam's art galleries play a key role in its cultural landscape and there is such a huge variety that there is pretty much something for everyone. The Walls Gallery, for example, has a youthful vibe and focuses on new, young artists from the Netherlands, with a program of artistic diversity that puts an emphasis on painting and photography. At the other end of the scale is the Rijksmuseum, which is the state museum and one of the largest in the city – currently on show is 'The Masterpieces,' which is essentially all the best pieces from the museum's collection whilst renovations are carried out in some of the museum buildings.
Van Gogh
At the Van Gogh Museum you can uncover one of the greatest collections by one of the world's most renowned painters. Some of Van Gogh's best known pieces are shown here, including The Potato Eaters, Sunflowers, The Yellow House and Skull of a Skeleton with Burning Cigarette, and the museum also displays the work of some of Van Gogh's Impressionist and post-Impressionist contemporaries, including Vincent van Gogh Painting Sunflowers by Paul Gauguin.
The Stedelijk Museum is another of Amsterdam's famous institutions where you can see pre-war works by Cézanne, Picasso, Matisse and Chagall, as well as much more modern pieces by the likes of Andy Warhol and Roy Lichtenstein. The Stedelijk Bureau has a taste for the subversive and is a great place to include on a tour of Amsterdam for those who are looking for something a bit different, such as the sperm paintings of Arnoud Holleman. It is located in the Jordan district of the city, which is where many of the best art galleries are to be found, as well as being just across the canal from Anne Frank's House.
Jordan has more than 40 specialist galleries that are cosseted away in homes or shops and some of the more secretive side of the Amsterdam art scene. Torch, for example, is a great place to visit for those looking for edgier art of the likes of Jake & Dino Chapman and Anton Corbijn. In the same area is Galerie Fons Welters, which is committed to uncovering new local talent and Curator Diana Stigter is one for those who like the strange paintings of Maaike Schoorel. As well as the official art galleries of Amsterdam, a tour of its art scene must also include the impressive amount of street art here. Expertly applied graffiti, stencil art and sculpture is around every corner with galleries such as Studio Apart having attempted to bring it into a more traditional setting.
Andaz Amsterdam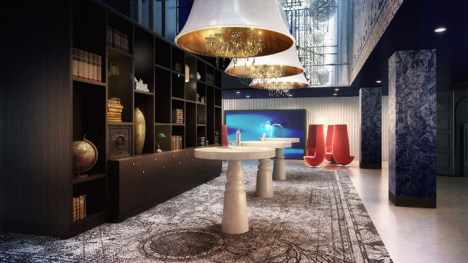 For modern art connoisseurs there's only one place to stay in Amsterdam where the love of art meets 5 star service – the new Andaz boutique hotel in Prinsengracht with its walls adorned throughout with video art designed by Marcel Wanders who has been dubbed the Lady Gaga of design!
Whatever kind of art you love, Amsterdam is a city for art lovers. The diverse and exciting range of painting, graffiti, photography and sculpture makes this undoubtedly one of Europe's most thrilling art hot spots.
An Art Lover's Tour of Amsterdam is a post from: itravelnet.com - Travel Directory
You are subscribed to email updates from itravelnet.com Travel Blog
To stop receiving these emails, you may unsubscribe now.
Email delivery powered by Google
Google Inc., 20 West Kinzie, Chicago IL USA 60610