---
Now Available in a Bookstore (or Kindle) Near You: My Guide to Budget Travel
Posted: 05 Feb 2013 06:27 AM PST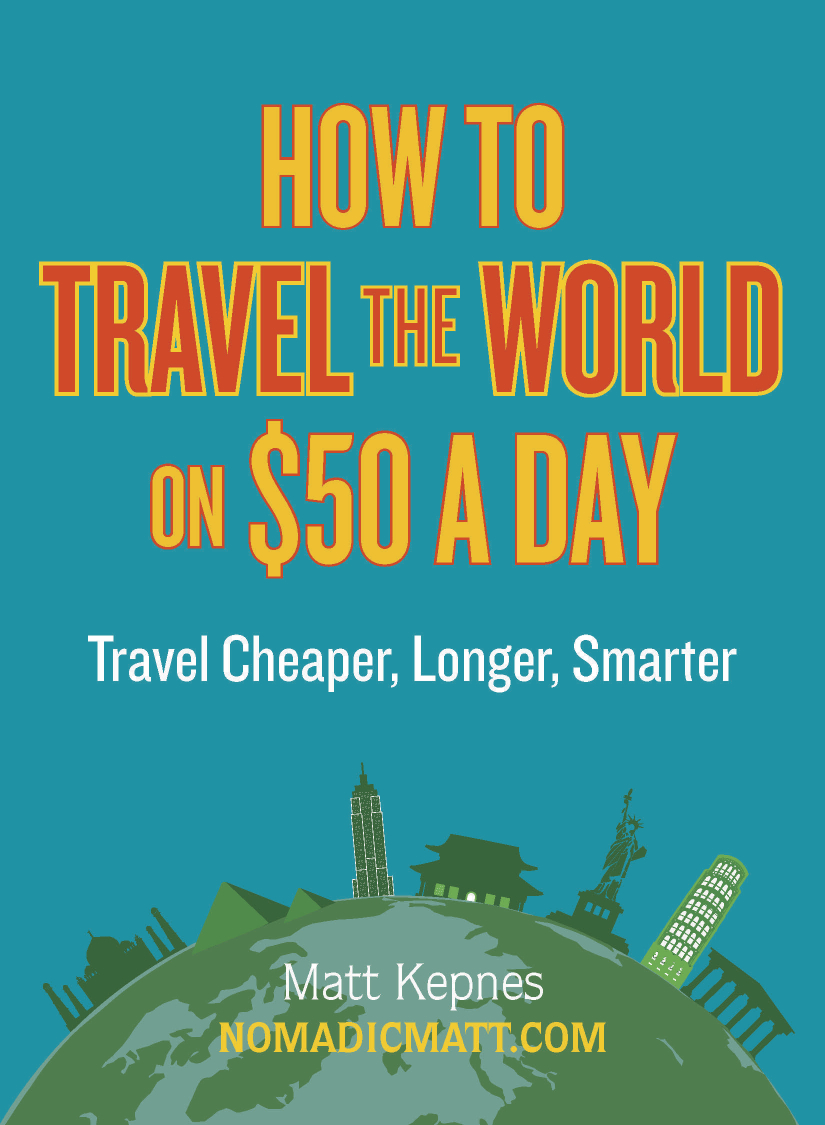 Today is the day. Available at a bookstore (or online retailer) near you is my new book, How to Travel the World on $50 a Day ($10-15 USD depending on the retailer). After over a year in the making, it's finally here — and I'm emotional about it.
But it's a good kind of emotional.
I'm very excited to finally introduce this book to the world: this 272 page, 60,000+ word treatise is the culmination of all my years of travel, featuring stories, tips, and advice never before featured on this blog. With this book, I want to inspire more people to explore their world and help them understand that travel isn't expensive and simply the domain of those with rich parents or good jobs. Even those with limited means can afford to travel.
Whether a two week, two month, or two year trip, we all want to stretch our money further so we can travel longer and more often. And now, you'll be able to do exactly that. I will help you make sense of any trip – no matter how long it is – and show you the secrets and tricks I use during my travels.
No matter who you are and where you come from, you can travel anywhere you want. What you read in magazines and see in commercials are meant to mislead you. Advertisements are designed to sell you high-end travel so companies can make money…not help you have the vacation of a lifetime.
Think about it.
All you see advertised are fancy resorts, hotels, expensive cruises, and tours, right? Even those "deals" still seem like a lot of money. Why is that? Because only big companies have large advertising budgets and the more expensive tours you buy, the easier it is to make money. If travel was really like that, what I and the millions like me do would be impossible. Why is it that you never see ads for small mom-and-pop guesthouses, travel discount cards, rail passes, or independent tour operators? They don't bring in the big bucks.
But they do exist — and they make travel possible for everyone.
I know because I've spent the last six and a half years traveling around the world using these things and pulling back the curtain on the travel machine. Actually traveling has showed me that there's a lot more to travel than advertised, and that there is a plethora of ways to travel on a budget of $50 USD per day (or less).
(Buy it on Amazon.com or buy it on Barnes & Noble)
If you're looking to travel but think you can't afford it, let me dispel that myth and show you how you can go anywhere you want.
The Secrets You'll Learn With This Book
Learn how to make your money work for you and never pay overseas bank fees again.
Learn how to use travel credit cards to gain hundreds of thousands of free frequent flier and hotel points.
Master the ways to get FREE airline tickets and save thousands – yes, free!
Learn the ins and outs of round the world tickets (and whether or not you need one).
Discover what to look for in a backpack so you get one that lasts forever (and is always comfy).
Find out where to find travel discount cards that can save you 40% or more on your trip.
Learn where to send your mail and what to do with your stuff before you set off on your adventure.

Get demystified about what travel insurance is, why you need it, and how to pick the right coverage provider.
Get the secrets to eating cheaply in any city in the world.
Learn why tourism cards are the best kept travel secret and how to use them to save hundreds in any city you are in.
Discover all the ways you can get free accommodation – from someone's couch to luxurious mansions – when you travel.
Find out how I manage to cut my transportation costs by 50% and how you can too.
Get stories, tips, and interviews with other travelers not found on this blog.
Get a comprehensive list of all the best companies to use from around the world.
PLUS – Get detailed costs for accommodation, food, drinks, transportation, and activities (and specific ways to cut those costs) for the following destinations so you'll know exactly how much everything costs, what you need to budget, and ways to save:
Australia
Central America

Southeast Asia
South America
Each of these sections has destination-specific money-saving tips so you can learn how to save money.
But beyond the practical tips, this book will lay out planning a long term trip in easy to follow steps that build upon each other, ease your fears, get rid of your anxiety, and comfort you as you prepare for the trip of a lifetime.
If you're not traveling the world, don't worry. Saving money isn't trip specific. Any trip, no matter how long, can be done cheaper. Whether you are looking to backpack through Europe or simply want to save money on your family vacation, my tips will help you. Not everything in this book will apply to your two week vacation, but the big tips are universal – from saving on flights to getting affordable travel insurance, avoiding bank fees, picking a good credit card, getting deals, lowering food costs, or finding cheap accommodation. Once we hit the ground, we all are faced with the same costs.
GET YOUR COPY AT THE FOLLOWING STORES:
(The book is also available for your Kindle, Nook, or iPad)
As an added bonus, if you buy today and e-mail me (thenomadicmatt@gmail.com) your receipt, I'll send you the following coupons:
10% off G Adventures tours
10% off Context Travel tours (city tours)
$75 off an Airtreks RTW ticket
The coupons are good until Dec. 31st, 2013 and have a combined value of over $300 USD – for a $10 book. Talk about value for your money!
I hope you consider purchasing this book – for you or someone who you want to give the travel bug to. Doing so would mean a lot to me. There's a lot of free information on this blog and it takes a lot of upkeep to keep it going — and while I'll keep pumping out helpful and useful free content, purchasing this guide will help keep the site running and helping more people like yourself live their dreams. This book takes all the information you find on this site to the next level. Instead of blog posts that can only scratch the surface, there are entire chapters dedicated to each topic. This site is good but the book is even better.
My goal is to beat Rick Steves and Lonely Planet on the Amazon top travel list. I can't do that without your help. If you've ever wanted to find a way to give back to this site, this is how you can. Let's make this book number one. Every sale counts, and who knows — maybe we can break into the overall Amazon Top 100. Travel guides never do that. Let's start a trend.
There's a lot of amazing tips in this book and I guarantee it is well worth the $10 you'll spend. And if you don't think it is, e-mail me and tell me why and what I can do for you. My ultimate goal is to help you travel better – even if that's not with me.
(And if you're not traveling yourself, this guide makes a great gift for other wannabe travelers!)
Thanks — and I hope you enjoy reading!
Sincerely,
Matt
P.S. – If you are in New York City tonight, I'll be having a launch party at Housing Works on 126 Crosby Street at 7 pm. For everyone else, you can find out when my book tour will be in your city with this post.
Now Available in a Bookstore (or Kindle) Near You: My Guide to Budget Travel is a post from: Nomadic Matt's Travel Site
You are subscribed to email updates from Nomadic Matt's Travel Site
To stop receiving these emails, you may unsubscribe now.
Email delivery powered by Google
Google Inc., 20 West Kinzie, Chicago IL USA 60610