| | |
| --- | --- |
| | |
---
Posted: 22 Nov 2012 06:31 PM PST
Ibiza is a great holiday destination. The island has a lot to offer, with a rocky landscape littered with pine trees and olive groves and a rugged coastline that is softened by dozens of beautiful sandy beaches. The tourist hot-spots on Ibiza are bright, loud and modern resorts, but if you head out of those areas to explore the northern part of the island you will find peaceful rural villages. Ibiza is full of surprises!
Making the Most of Your First Trip to Ibiza There is a lot to see and do in Ibiza and it would be impossible to fit everything into one trip. If you're a first-time traveller, booking a package holiday is a good way to have a hassle-free travel experience. The most popular resorts are Playa D'en Bossa, Es Cana and San Antonio.
Staying in a hotel in a resort or renting a villa in one of the resort villages is a safe and convenient way to enjoy Ibiza, but you will miss out on a lot of the local flavour and atmosphere. It is a good idea to devote at least one day to exploring local towns and villages and heading to an off-resort beach. Ibiza is a fairly small island, so you can explore it easily even if you do not have access to a car.
Clubs and Entertainment
Ibiza is famous for its club scene. There are a handful of "super-clubs", as well as several lesser-known venues and beach clubs that are worth a visit if you want to expand your musical horizons. The most well-known clubs are Amnesia, Pacha and Privilege. These clubs are large, loud and extremely busy.
If you want to go somewhere more low-key, then Bar Costa, located in Santa Gertrudis, is definitely worth visiting. It is one of the oldest bars in Ibiza and it has managed to retain its traditional charm. During the summer you can enjoy a drink on the terrace, while winter guests can enjoy sitting indoors, huddled around the quaint and cosy fireplace.
Budgeting for Your Ibiza Holiday
If you want to enjoy the party lifestyle when you are in Ibiza, then you will need to have a substantial budget. Alcoholic drinks can be quite expensive and cover charges at the larger clubs are usually high. If you are on a tight budget, you can keep your costs down by choosing cheaper nights of the week to go clubbing and buying your tickets online. Those who are looking for a more chilled-out beach experience should be able to enjoy a holiday on a budget. You can find cheap flights to Ibiza at most times of the year, even during the peak holiday season and a cosy villa at a small resort should not break the bank.
Whether you want to explore olive gardens, relax on the beach and get a sun tan, or let your hair down and party every night of your holiday, Ibiza is a good destination choice. There is a lot to see and do and after your first visit, you will be raring to return.
A First-Timers Guide to Ibiza from itravelnet.com - Travel Directory
10 Places you must Visit if you go to Barcelona
Posted: 22 Nov 2012 02:38 AM PST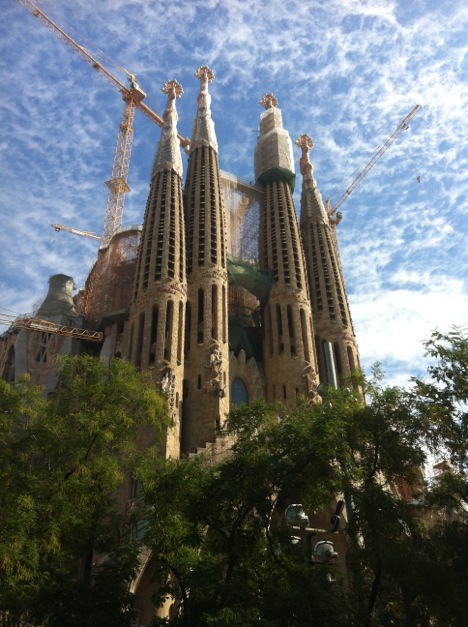 1. La Sagrada Familia. This is unquestionably Barcelona's most popular building. If someone is visiting Barcelona for the first time, you can almost be sure that they will stop at La Sagrada Familia. The cathedral was originally designed by one of Barcelona's most famous architects of all time: Antoni Gaudi. La Sagrada Familia is still in construction even though it was designed over 100 years ago. It is currently the only cathedral in the world that is still being built. Famous British author George Orwell hated the building and called it "the ugliest building on earth". Even so, it remains as Barcelona's most popular attraction.
2. Park Guell. It is no secret that there are dozens of beautiful parks in Barcelona, but Park Guell is a definite stand out. By far the most interesting and impressive aspect of Park Guell is its garden complex. The complex was designed by Antoni Gaudi. Park Guell forms part of the UNESCO World Heritage. This maze like park is bursting with architectural designs by Gaudi, and it will take hours to enjoy every last bit of it.
3. Santa Maria del Mar. This is another famous cathedral in Barcelona that was built "by the people, for the people". It's a very impressive and simple structure from the outside as well as the inside (when compared to other cathedrals in Spain). It displays the gothic style that was popular in Catalonia. The cathedral is massive and inside it is very luminous.
4. The Picasso Museum. Even though the Picasso Museum in Barcelona does not have any of Pablo Picasso's most famous paintings, it remains as one of the most popular attractions from the city. The Picasso Museum houses many of the artists. Many of Picasso's early sketches are displayed. The museum will most likely remain one of Barcelona's most famous attractions for years to come.
5. Gothic Quarter. Tourists are able to visit the Gothic Quarter and enjoy a very relaxing walk. The Gothic Quarters are near the Jewish Quarters and the Plaza Pi, Barcelona Cathedral and the Casa de Arcadia.
6. Aduana Vieja. Aduana Vieja is located in Plaza Palau. This building features a neoclassical design with a very clear rococo influence. Inside, you will find displays of Pere Muntaya's murals and art inspired by the classic adventures of Don Quixote.
7. Casa Milá. It was built between 1905 and 1910. Inside you will find lots of beautiful and inspiring sculptures. The building is also famous for its design.
8. Montserrat. Montserrat is not technically in Barcelona, but it is located only 40km outside the city. However, it is a favorite of thousands of tourists from all around the world. A Benedictine abbey built in the mountains, it is home of the famous "Black Virgin" of Spain.
9. Gran Teatre del Liceu. A world class concert hall. Plush red carpets and ornate cravings fill up the place. Many of the world's best musicians have offered concerts in The Gran Teatre del Liceu. Be sure to check out which music festivals are being offered while you're visiting the city.
10. Montjuic. Montjuic, which is also known "Hill of the Jews" is conveniently located on a hill in the city. In here, it is very easy to admire Barcelona's beauty. The main attraction in Montjuic is a fortress located on top of the place.
More information about Barcelona here.
10 Places you must Visit if you go to Barcelona from itravelnet.com - Travel Directory
You are subscribed to email updates from itravelnet.com Travel Blog
To stop receiving these emails, you may unsubscribe now.
Email delivery powered by Google
Google Inc., 20 West Kinzie, Chicago IL USA 60610