| | |
| --- | --- |
| | |
---
2 Weeks for the Price of 1 on Irish Holiday Cottages
Posted: 28 Feb 2011 08:24 PM PST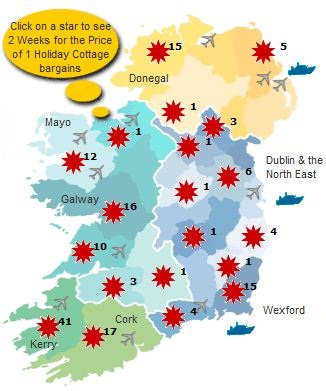 2 Weeks for the Price of 1 on Irish Holiday Cottages
Imagine Ireland are offering an amazing 2 weeks for the price of 1 on many of their cottages through Spring and Summer.
Ireland is choc-full of great things to see and do, making it the perfect Easter holiday destination. Whether you are looking for a property which is close to a beach, in walking country or to make it your touring base, Imagine Ireland's specially selected range of holiday cottages are ideal for a memorable Easter holiday or short break.
Each one of Imagine Ireland's cottages has been individually selected and inspected so you have the best choice – from Donegal to Dublin, Kerry to Kinsale and from coastal cottages to country retreats, we've something for everyone. The majority of our cottages include bed linen and towels, and most include fuel and power, so there are no extras.
Full details and terms and conditions can be found on their website.
2 Weeks for the Price of 1 on Irish Holiday Cottages
Travel Deals: Imagine Ireland
Marbella's Reservoir of Conception
Posted: 28 Feb 2011 06:08 PM PST
An utterly incomprehensible mass of words have been expended on Marbella. I don't mean the words themselves are incomprehensible, just that the sheer amount of information is mindboggling. Every angle has been exhausted; Marbella as a luxury destination; Marbella as a gastronomic paradise; Marbella as a nightlife capital; Marbella as a golfer's greatest fantasy; and yes, before you try and call my bluff, Marbella as a place where you can see retired boxers going toe-to-toe with Arab princes.
How on earth was I, therefore, going to discover something new in Marbella?
For a start, I loosened my definition of Marbella to include the surrounding area, not so much along the coast, but moving inland. By day I explored the anonymous undulations not quite close enough to the Mediterranean Sea to join the Costa del Sol's party, by night I returned to base and tried not to look as unenthusiastic as I felt around the honking Marbella clubs.
My explorations took me to all kinds of remote villages… not exactly Che Guevara in his Motorcycle Diaries, but a stark enough contrast to the glitz of Marbella to tickle my wanderlust. A little over 10 kilometres north of the town centre, hardly far enough to be categorised outside of Marbella, I discovered El embalse de la Concepción, which translates, rather wonderfully, as the reservoir of conception.
Take a look on Google Images and there's no way you'd have guessed this place sits a stone's throw away from the Mediterranean Sea, with its bare, sunburnt flesh and the sound of clinking champagne glasses filling the air. Unless you're sitting on your personal yacht in Marbella's harbour right now, of course.
Without the faintest idea of its existence I marched over a gentle peak, head down, thumbs locked into backpack straps, and a look of gritty determination across my face, before glancing up and coming to an abrupt halt as if I'd seen a ghost. Overcome with panic, sweat rolling down my eyeballs, I pulled out a map to check I hadn't somehow crossed into Tuscany. It was possible, but I'd have needed about four more weeks to do it.
I stood overlooking a scene of tranquillity, a still lake whose edges meet steep, verdant inclines which seem as though their vegetation sinks beyond the water's surface. Of course, this made sense after I learnt it was a reservoir, but at the time it was surprising and magical.
I could have been anywhere in the world; on the peak of a Himalayan mountain, in the rolling hills of Austria, or staring at a copy of National Geographic magazine. Regrettably, I had only a small amount of time to settle down and enjoy it while chewing on the sandwiches which had been squeezed and squashed in my bag, before turning and making the descent back towards the coast.
It seems there is still plenty to discover in Marbella, as long as it is treated as a base from which to explore, rather than a haunt in which to socialise, sunbathe and spend.
Plan your next trip here: http://marbella.mydestinationinfo.com.
You are subscribed to email updates from itravelnet.com Travel Blog
To stop receiving these emails, you may unsubscribe now.
Email delivery powered by Google
Google Inc., 20 West Kinzie, Chicago IL USA 60610